Tog första bästa buss utanför universitetet. Hoppade av sista hållplatsen innan Lagada. Istället för att gå till Marinopoulos, 1 hållplats, väntade jag in nästa buss som svänger upp på Lagada. Slött? Nej, nödvändigt pga värmen. Man går inte i onödan mitt på dagen.
In för att handla lite. Köpte ost i ostdisken och köttfärs. Skulle ha lite skinka, men det var lite svårt att se genom glaset så jag frågade, på engelska om det bara var kött. Tjejen gick och hämtade en kvinna, hon i ostdisken, som jag försökte förklara för. "Do you speak Swedish", sa hon. "Ja", sa jag. "Det gör jag också" sa hon. Det visade sig att hon, Johanna, var född i Sverige men flyttat tillbaka till Grekland. Jag fick mina tunna skinkskivor och en ny ost med lite mer smak i.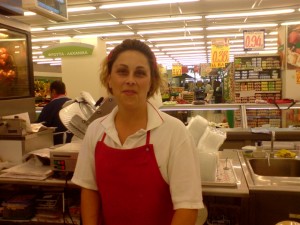 ENGLISH
Took the first bus outside the university. Left it at the last bus stop before Lagada. Instead of walking to Marinoupolos at next bus stop I waited for the next bus. No need to walk some extra steps in this heat.
Got some cheese and some minced meat. Wanted to have some slices of ham. It was hard to see through the counter so I asked the girl, in English, if it was ham. She fetched the woman from the cheese counter. "Do you speak Swedish", she said. "Yes", I replied. "So do I" she said. It turned out she, Johanna, was born in Sweden by Greek parents and had moved back to Greece. I got my thin slices of ham and also a cheese with more taste.