Vi tillbringade hela dagen på stranden fram till tre-tiden. Vi åt lunch hos svensken och hans servitör, sa adjö till damerna och begav oss söderut mot Tembi.
We spent most of the day on the beach. Around three we had lunch at the Swedes and after we went to Tembi.
Vid Tembi är E90 bara enfilig och en riktig flaskhals. Den ringlar sig längs floden Pineos några km innan den åter blir 3-filig. Bergen vid Tembi är magnifika och där finns en kyrka i berget på andra sidan floden. Man tar sig dit genom att gå över en smal gungande bro.
At Tembi the E90 only has 1 lane in each direction and is a real xxxx. It follows the river Pineos for some km before it has 3 lanes in each direction again. The mountains at Tembi are magnificent and there is a church in the mountain on the other side of the river. You get there by walking across a small bridge.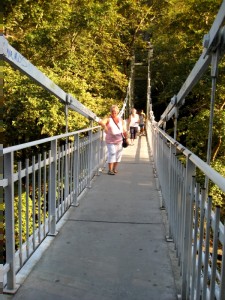 Emellanåt ser man någon som fiskar, eller hur Alex…. Vattnet är kristallklart och vi såg var fisken höll till.
Sometimes someone tries to catch some fish, right Alex…. The water was crystal clear and we saw the fish.
På andra sedan bron finns en kyrka insprängd i berget.
On the other side of the bridge there is a church in the mountain.
Vi tog en båttur, ca en halvtimme, på floden. Vacker nature, magnifika berg och tydligen en speciell fågel.
We went by boat, for about ½ hour, on the river. Beautiful nature, magnificent mountains and some bird.
Vi lämnade Tembi vid sex-tiden, helt enligt plan för att vara tillbaka i god tid före 21 då bilen skulle lämnas.
We left Tembi around 6pm, according to plan, in order to be back before 9 when we should leave the car.
MEN när vi hade ca 4 mil kvar till Thessaloniki, kom Barbara på att hon glömt sin mobil på toan i Tembi! Vad skulle vi göra? Det var hennes jobbmobil. Vi vände och körde tillbaka. Vi räknade med att vara där ca 20.15 och hoppades att den skulle vara inlämnad i affären och att det fortfarande var någon kvar. MEN när det var 5 km kvar var det totalstopp i trafiken. Jäklar! Det tog 1½ timme att köra de sista 5 km och när vi kom fram var det helt mörkt, inte en kotte där och en låst grind vid vägen till toan. Men Barbara kravlade under den och sprang bort till toan. Så klart var den inte där. Jag ringde till den från min mobil och det kom signaler men ingen svarade. Skickade även ett SMS om att kontakta mig. Sen åkte vi till Thessaloniki och var framme vid midnatt.
When we had about 40 km left to Thessaloniki Barbara realized that she had forgotten her cell phone at the Tembi toilet! We turned back and when we had about 5 km left there was a total traffic jam. It took us 1½ to drive the last 5 km. It was dark, no one there and of course a locked gate at the path to the toilet. Barbara went under it and ran to the toilet. Obviously it was gone. I called it and we had signals but no answer. I also sent an SMS and asked to be contacted. Then we went back to Thessaloniki and arrived home at midnight.