Följde med Maria till hennes by. Åkte 4 olika bussar på samma biljett, en vanlig stadsbiljett för 0,5 €. Byn ligger ca 2 mil från Thessaloniki.
Den var väldigt utsatt av nazisterna som hade tre ugnar här. Till minne av alla offer fanns en stor minnessten.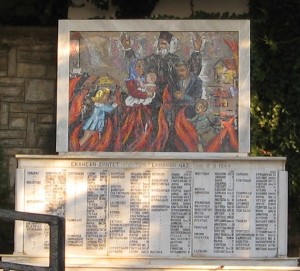 ENGLISH
Joined Maria to her village about 20 km from Thessaloniki, up on the mountain. Went with 4 different buses and on the same 0,5 € ticket.
The village suffered a lot during the war and the Nazis had 3 ovens here. In honour of the victims there is a memorial stone in the centre.