Idag hade Dimitris med sig något han bakat. Smördeg med mandelfyllning.
Today Dimitris brought a cake he made himself.
Och här är hela klassen.
And here is the class.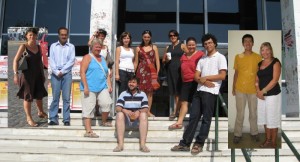 Barbara, Roland, Eva, Daniella, Julia, Louise, Eleni, Dimitris, Takasi, Ilona and Panos sitting down, tired from running to the army and police.
As Barbara was hiding behind me, I had to fix it…. and Fikrie is missing….
Vår underbara lärare Eleni.
Eleni, our excellent teacher.